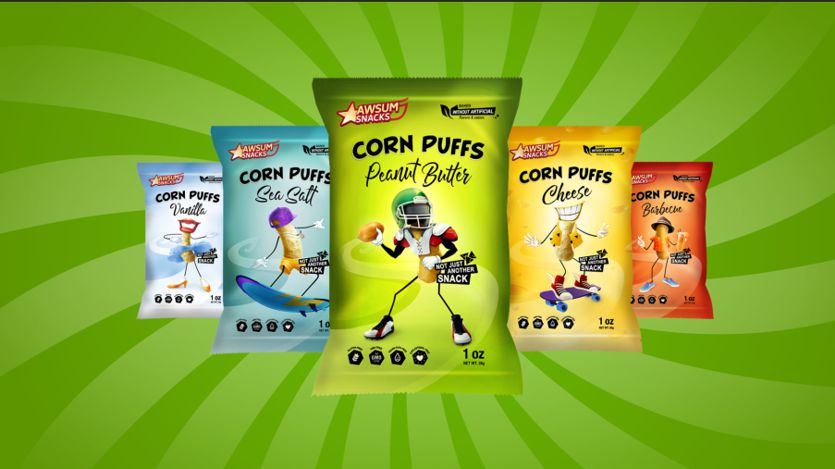 Selling the right variety of product to your customers is one of the most important aspects of running a good profitable vending business and you as a vending operator should constantly strive for customers 100% satisfaction providing them what they want today and anticipating what they might want tomorrow.
Customers loyalty is a vital thing to the prosperity of any business. To keep your customers tuned and loyal, you need to move with the trends and constantly provide them something new.
Times have changed, and today's consumer is trendy, demanding and outgoing. Their interest lies in good taste, flavor variety, new snack ideas and better nutrition benefits, - it's no easy to combine all these criteria on one product but we have something interesting for you.
AwsumSnacks Corn Puffs – this a new snack in town but with all kinds of benefits. Our snacks are yummy with a variety of flavors and top quality ingredients. Restore your mojo and get the lines growing behind your snack vending machines with our AwsumSnacks products. As all business enthusiasts know, a new product is a form of attraction to customers.
The fulfillment and satisfaction of your customers is our main priority. To keep your customers coming back, we have ensured that AwsumSnack Corn Puffs come with numerous benefits.
First
and foremost, AwsumSnack Corn Puffs are yummy. Yes, so light, crispy and delicious that your customers won't get enough of it and instead keep coming back for more and more Corn Puffs.
Secondly,
AwsumSnack Corn Puffs are non-GMO. We believe in the fact that our customers should not partake GMO foods without their knowledge.
Thirdly,
AwsumSnack Corn Puffs are baked without artificial flavors and colors. We want your consumers to feel and enjoy the bright natural taste of our snacks.
Why come to us?
Here at AwsumSnacks, we strive to ensure that we make best snacks for our customers. Our product is of high quality, comes in a stunning package and has an appealing competitive price.
We ensure that you and we make a substantial amount of profit. To a reasonable extent, we guarantee you a smooth flow of our product. Get AwsumSnack Corn puffs today and watch the lines grow behind your vending machines.
We are here to ensure you and your customers are treated with the great products you so much deserve.
For more information, check our web site: www.awsumsnacks.com