450-500kg/h Feed Pellet Plant
Herm Machinery,
3:51 AM 7 September 2020 | Henan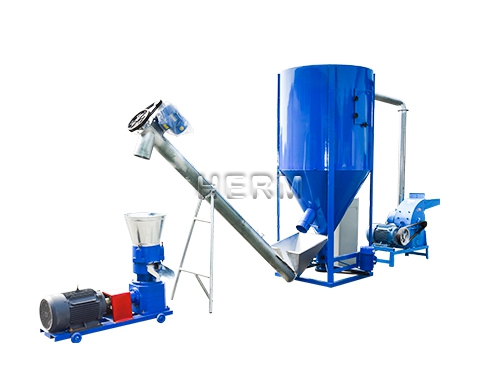 Condition: NEW
450-500kg/h Feed Pellet Plant IntroductionThis small feed pellet plant also called feed pellet production line, it is specially designed for produced animal feed pellet. It can produce 500kg feed pellet per hour. This small feed line include feed grinder, feed mixer, and feed pellet machine. So, it can product animal pellet by the process of grinding, mixing, conveying and pelleting.
Feed Pellet Size: 2-8mmFeed Pellets Processing Capacity: 450-500kg/hFeed Pellet Forming Rate: >90%Suitable for: livestock, poultry and fish farmes, hennery, small feed production workshop, etc.Raw materials: feed pellet plants raw materials can include corn, wheat, grass, alfalfa, oil seed meal & cakes, pasture, bone meal, microelements, etc.
450-500kg/h Feed Pellet Plant Working ProcessGrinding: once you have your raw materials for making animal feed, you might need grinding them all to powders, especially like grass, if it is long, it must be cut first, this process will make sure the materials are more easier to be mixed formed pellet. The ground materials helps the digestion of the animal and greatly helps the healthy growth of the animal, so that grinding process is a very important process in the feed production line.Mixing: after grinding the raw materials, and confirmed the proportions on each materials, you need to mix the premix accordingly, the feed mixing machine is the "heart" of the entire feed production line, the capacity of the mixer determines the feed production line's capacity. Using the mixing machine can mix the premix materials evenly and make the final product better quality.Pelleting: the flat die pellet machine make use of the interaction of pressing force and friction force between the press roller and the press die to make the material into granules shape. During the production process, the starch in the feed can be ripened and make the feed more aromatic. The particle formation process can degenerate the resistance factors in grains and beans, reduce the adverse effects on digestion. Also the production process can kill various parasite eggs and other pathogenic microorganisms and reduce various parasitic diseases and digestive system diseases. By using the feed pellet machine, it is more easier to feed the poultry, comparing to powder feed, the pellet feeds' utilization rate is higher and you can reduce a lot of waste of the feed.