Complete Feed Pellet Production Line
Herm Machinery,
3:47 AM 7 September 2020 | Henan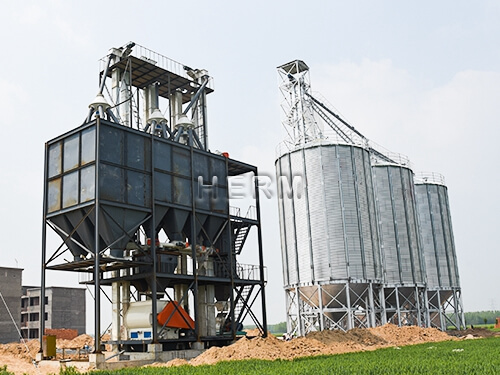 Condition: NEW
Complete Feed Pellet Production Line IntroductionThe feed pellet production line also called feed pellet plant, which is an ideal equipment for animal husbandry. It integrates the functions of dust removing system, crushing, mixing, conveying, pelletizing, cooling, screening, and packing in one. We can design medium size and large scale sizes to meet different client's requirements. This feed pellet line with high degree automation.
The whole feed pellet line process is continuous and reasonable, and the performance of each single machine is good. The feed pellet production line has a compact structure, small floor space, low energy consumption, and high efficiency. The pellet size can be from 2mm to 10mm to suitable for different animals such as cow, sheep, rabbit, pig, chicken, duck, sinking fish feed, etc. We can supply different capacity animal feed production lines, such as 0.5-1t per hour, 2-4ton per hour, 5-6ton per hour, 8-10ton per hour 10-15ton per hour, 15-20ton per hour. Our factory has a strong technology team, so we can design different feed pellet plants according to different customer's requirements. Feed Pellet Size: 2-12mmFeed Pellets Processing Capacity: 1-15t/hFeed Pellet Forming Rate: >90%Suitable for: livestock, poultry, and fish farms, hennery, feed production workshop, etc.Raw materials: feed pellet plants raw materials can include corn, wheat, grass, alfalfa, oilseed meal & cakes, pasture, bone meal, microelements, etc.
Feed Pellet Production Line ProcessStep 1. Raw materials receiving and cleaning process-to remove the input materials impurity and other iron materials. Usually use the Permanent magnet tube and siever. Step 2. Crushing process---hammer mill is mainly used to crush raw materials into powder. Step 3. Mixing process---to mix the crushed materials with higher uniformity which helps make high-quality pellet feed. Step 4. Pellet making process---it is the key parts of the whole line which to make the materials into feed pellet. The pellet size can be different by change the mold. Step 5. Pellet cooling process---counter flow cooler The newly pressed pellets are very high in temperature. This process is to cool the pellets to ±3-5℃ of the room temperature. Step 6. Pellet crumbling process----feed crumbler (roller crusher) This process is mainly to crush the big pellets into small ones. It is mainly used for small animals. Step 7. Sifting process-- This process is mainly to sort out the inappropriate pellets and powder and send the standard pellets to the next process. Step 8. Packing process -----packaging machine This process is to pack the pellets into bags which is convenient for storage and transportation.
Animal Feed Pellet Production Line Structure1. The structural form has two types: integral steel frame and floor type. The overall steel frame layout is compact, beautiful shape, and style; the floor type is easy to use and maintain.2. Small and medium-sized feed pellet production line adopts manual metering and ingredients, and the equipment investment is small, economical, and practical.3. Large and medium-sized complete feed pellet production line adopts computer automatic metering and batching, with good batching precision, high degree of mechanization and automation.4. the project is designed by our company is keeping up with domestic and international development trends.