Feed Dryer
Herm Machinery,
4:12 AM 7 September 2020 | Henan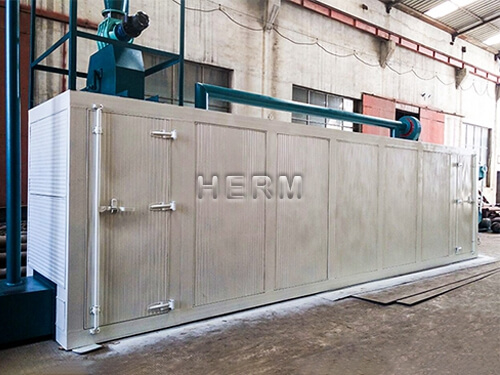 Condition: NEW
Feed Dryer Machine IntroductionFeed dryer machine is a specially designed machine to remove feed pellet moisture and heat generated in feed pellet production line. Well known, the final feed pellets from feed extruder are moist in high temperature, so, they can not be transported and stored immediately and require to be dried first. Because of this, the feed dryer occupies a vital position in the feed production line.
Feed pellet drying process is: placing the material on the conveyor belt with the accompanying motion by contact with hot air in the tunnel to drying. Uniform pellet drying, flexible configuration and unique air dividing device, mesh belt dryers are offered with three models for your different drying demands! Animal Feed Dryer ApplicationSpecially designed machine to remove pellet moisture and heat generated in pellet production. Animal Feed Dryer Advantages1. This dry machine for poultry feed is made of stainless steel, no harm to the feed nutrition.2 High efficiency machine for making high quality dry poultry feed with good taste.2. Easy control and occupy small space, long duration.
Animal Feed Dryer Features1.Hot air can be circularly applied, the energy is greatly saved..2.Unique air dividing device, it makes hot air distribute uniformly3. Ideal for drying feed pellets, grains and etc.4.The equipment's configuration is very flexible.5.Simple structure, easy installation and maintenance.6.Materials will not be vibrated or impacted during the drying process, so the pellets will keep intact.7.Air quantity, heating temperature, materials staying time and feeding speed can be adjusted to achieve the best drying effect.