Flat Die Animal Feed Pellet Machine
Herm Machinery,
4:02 AM 7 September 2020 | Henan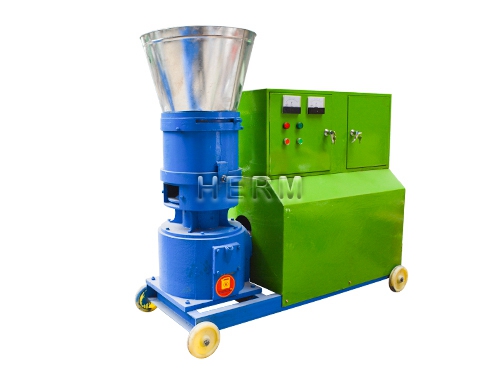 Condition: NEW
Flat Die Animal Feed Pellet Machine IntroductionThe flat fie animal feed pellet machine is mainly used for making the feed pellet for poultry such as cattle, chicken, rabbit, horse, duck, fish ( sinking type), etc. the material can be corn, wheat, soybean, rice husk, straw, grass, crop stalk, peanut shell, etc. As well as some additives as molasses, vegetable oil, and vitamins, etc. The pellet size can be range from 2.5mm to 8mm by changing the mold. So can be suitable for different stage animal from young to large. The feed pellet is smooth and nutritious. It is usually used in the small animal pellet producion plant.
Flat Die Animal Pelleting Machine Features1. Flat die animal feed pellet machine is easier to clean and maintain 2. It is easier to change the roller and mold if needed3. Small and lightweight, less space cover4. Visibility, It is possible to view into the chamber when pelletizing, you can solve anyproblem timely.5.The main features of the feed pellet machine: high energy efficiency, reasonable structure,work reliable, wide adaptability, elegant, easy to clean, easy to operate.low invest
Flat Die Feed Pellet Making Machine Noted1. Before making the feed pellet, all the materials should be crushed and mixed well, keep the moisture content around 13-18%.2. You can make 2-8 mm diameter animal feed pellets. Such as 2-4mm diameter chick feed pellets and pig feed pellets.2-5mm rabbit feed pellet, 4-8mm cattle, or sheep feed pellets. 3. The last pellet length can be adjusted.