FLAVOR STRIP VENDING DVD - Print them when you need them
MJ C,
2:48 PM 15 February 2014 | California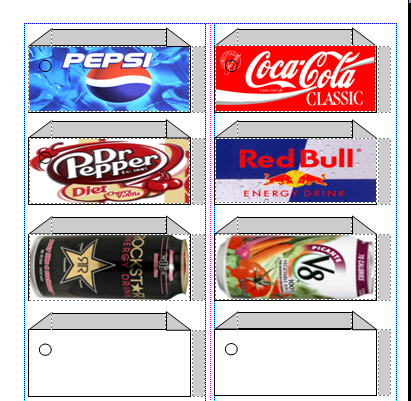 Run everything from the disk with nothing being installed into your computer! 4.87 GIGABYTES of graphics, manuals and information!

THE VERDICT IS IN! VENDING MACHINE OWNERS LOVE THIS DVD! This is what other customers said: This Item Had More Info Than I Expected A+A+A+THANKS...better than I expected! FAST shippingGreat item-packed full of information!

VENDING MACHINE FLAVOR STRIPS (labels) on DVD. This has over 1,400 images and over 1,500 vending machine & product manuals. NEVER buy labels again when you can print out your own! Never have to put up with "over-whelmed" corporate suppliers that don't have the time to get you a couple of labels. Here's the neat thing about this DVD: If you want the newer flavor graphics in the older sized buttons, YOU CAN DO IT! If you want the older, classier looking flavor graphics in the new button sizes, YOU CAN DO IT! We've spent the past 12 years saving, scanning and digitally "cleaning up" vending machine labels that we get from liquidating Pepsi & Coke equipment.

Why spend $1 or more PER LABEL from other outfits? You get Magnum, Trade, Old Square & Wide button styles. You get Price Labels for Vendo, DN, AP, National, Lots of misc. vending labels, bulk candy labels... there's something for everyone! You get templates for all the different sizes (in MS Publisher 98 and BMP formats), The DVD even comes with a Demo install copy of COMPUPIC, a great image viewer AND modifier! In this latest version (08/2013), you get FLAVOR LABELS: All Energy Drinks; 7-Up 24; A&W 14; Allsport 13; Arizona Ice Tea 23; Coke 364 (20oz bottles, Barks, Black Cheery, Blak, C2, Dasani, Cherry, Fanta, Fresca, Mello Yellow, Minute Maid, Sprite and many more); Diet Rite 11; Dole 11; ; Energy Drinks 168 (Airforce, Bookoo, Full Throttle, Monster, Red Bull, Rockstar and many more); Gatorade 38; Glass front machines 58; HVV Machines 38; Jones 14; Misc Flavors 311 (Aquafina, Dasani, Big Red, Bubble Up, Canada Dry, Crush, Dad's, Hansen's, Hawaiian Punch, Hires, Shasta, Squirt, Starbucks, V8, and many many more); Ocean Spray 21; Pepsi 384 (20oz bottles, Amp, Aquafina, Brisk, Cherry, Diet, Lime, Mtn Dew, Mug, Storm, Mist, Twist, Vanilla and many many more); Sobe 116. AND MANY, MANY MORE! As of 2012 there is ALOT added to the list above; too much to enter. You get 60 Beer labels in EPS postscript format. You get 36 Fountain Labels. You get 100+ Ice cream novelty labels for; Blue Bunny, FrozFruit, Good Humor, It's-It, Klondike, Minute Maid, Popsicle, Vita Freeze, Big Eds, Oreo & misc. You get 100+ misc vending related images including; Warning stickers, Bulk candy 75 such as: BB Beans, Cashews, Chicle Tabe, Fruit Tarts, Mints, Peanuts, Pistachios, Red Hots, Runts, Hot Tamales, JBeans, M&M Pnt, M&M Plain, M&I Green, M&I Trop Frt, M&I Rglr, RsesPieces, Skittles, Food & Snacks, and many many more.

We recommend that you have Microsoft Publisher 98 or newer to fully utilize these templates but we also include generic templates that you can use as a pattern to make on your own graphics program that you may already have!! When we digitally "clean up" the labels, we brighten the colors, decrease the "bleed through"; to get the labels looking just as the artist intended without the bleed of the printing process. For PRICE LABELS there are over 199 images. You get ALL denominations for; AP, Dixie Narco, Vendo, EEC machine, National, Generic black on white, 40 other money related images such as DBV Insert Bill stickers, Coin Face Plate labels, Tilt warnings and Money removed labels The DVD comes with the following SET-UP, OPERATION, SERVICE & PARTS MANUALS: ARDAC manuals. COINCO including: 9300 Series, BA30, Global, GX series, MAG, Quantum & Vintage. CONLUX manuals. Mars/MEI manuals. Beverage Air. MasterBilt including BBC 12-14-15-16-17-26. QBD. TRUE. DIXIENARCO INCLUDES OVER 350 MANUALS! NATIONAL. ROWE. ROYAL!. AUTOMATIC PRODUCTS (Snackshop 111-112-113-4000-5000-6000-7000 series). OVER 500 SODA FNTN MANUALS! 200+ Vendo PLUS other manuals to vending machines that we don't have a clue what they did!

How to use this DVD Open Publisher 98 (or newer), Select needed template from Template directory, Open image you need with your image viewer OR the supplied CompuPic image viewer program (must be installed to your computer), COPY, PASTE and resize into template borders, PRINT @ 400DPI Color. It's that easy! Sent to you via USPS w/ tracking.