Pet Food Pellet Machine
Herm Machinery,
3:59 AM 7 September 2020 | Henan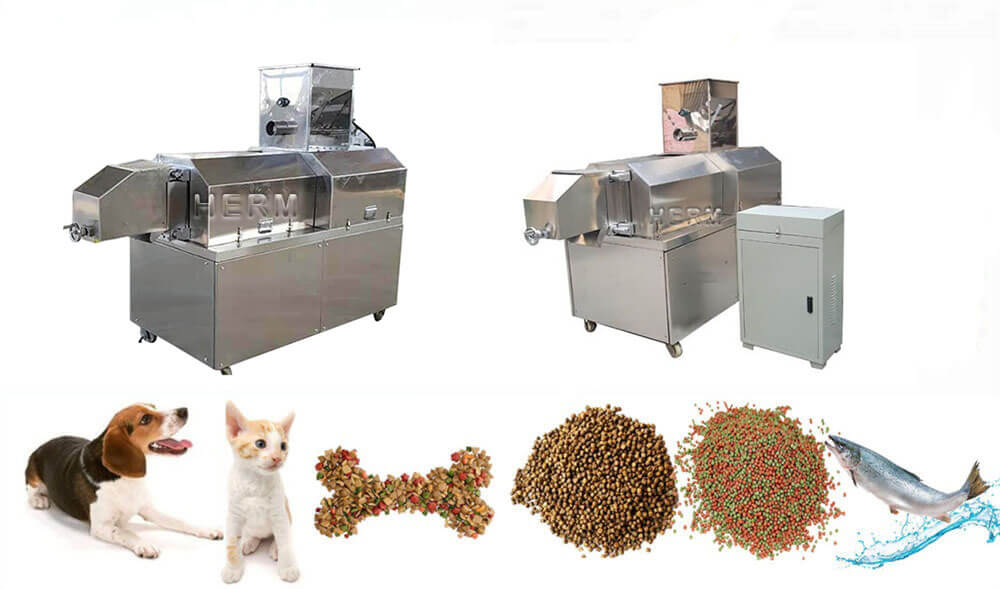 Condition: NEW
Pet Food Pellet Machine IntroductionThis pet food pellet machine is designed to produce pet food pellets, also animal feed for every kind of animals, like cats, dog, fish, mink, foxed, rabbit, fish, shrimps, poultry, livestock, birds and other pets.The pet food pellet machine normally using cereal flour, vegetable proteins, minerals and vitamins and, in some cases, meat or fish flour and fresh meat as raw material. By adjusting the ratio of raw materials, processing temperature, moisture, extrusion pressure and other production processes, it can make the product have different size, shape, taste and nutrition ratio.
Raw Material required :Type: corn flour, wheat flour, soya flakes meal, rice, wheat bran, meat, bones powder, fish powder, annexing agent, etc.Fitness: about 60-80mesh which were crushed and mixed Moisture content: about 20%-25%Starch content: ≥30%
Pet Food Pellet Machine AdvantagesThe main pet food extruder machine adopts frequency speed controlling with high automation and stable performance.The screws of the pet food extruder machine are made of stainless steel and special craft, durable usage. Adopt the building block structure, compact and easy operation.The forced lubrication system guarantees a longer service time of the food extruder machine transmission system.Auto-temperature control system makes the temperature controlling more directly viewed and the parameter more precise.The pet food machine can be equipped with a heating boiler which can connect to the heating gas, making the grains fully cookedThe pet pellet machine has wide application for making food pellets with various shapes for fish, dog, cat, and other pet, etc Pet Food Pellet Machine ApplicationsThis pet food pellet machine can process the corn, soybean and other grains into feed pellets for the cat, dot, rabbit, fish, shrimp feed, etc. Indispensable in the pet food processing industry.
Pet Food Pellet Machine Working Video

Country: China
State: Henan