Pulse Dust Removal Machine
Herm Machinery,
4:16 AM 7 September 2020 | Henan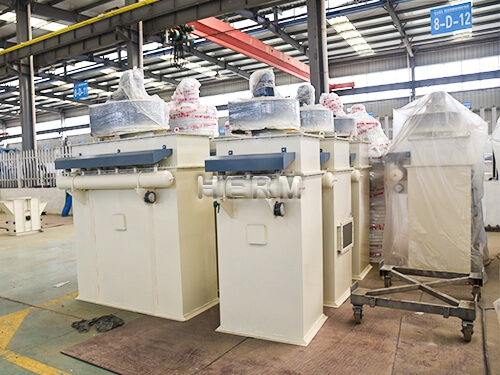 Condition: NEW
Pulse Dust Removal Machine IntroductionPulse dust removal machine refers to removing dust adhering to a filter medium (bag or filter cartridge) by blowing compressed air. This Pulse Dust Remover also called pulse dust collector, which uses a special fabric filter bag. The unique injection and effective air blowing device can effectively clean the surface of the bag. High-tech famous products with novel structure and compact process. Double air inlet, flexible process layout and small floor space. High dust removal efficiency (≥99.9%) filter bags can be ultra-fine, temperature-resistant, moisture-resistant, anti-static, etc. according to user needs.
Pulse Dust Collector Features1. It adopts a unique spraying device and a frame removable bag structure, which is convenient for maintenance2. Special filter bag is used to filter the dust, and the dust filtering effect is good3. Compact structure, small footprint, high dust removal efficiency Pulse Dust Removal Machine ApplicationThe Box Cylinder Pulse Dust Remover is suitable for dust collecting in food and feed processing industry, pneumatic conveying site, dust recycling industry, etc. it would be used for collecting dust or powder for single machine, or group of machine.