Ring Die Feed Pellet Mill
Herm Machinery,
4:01 AM 7 September 2020 | Henan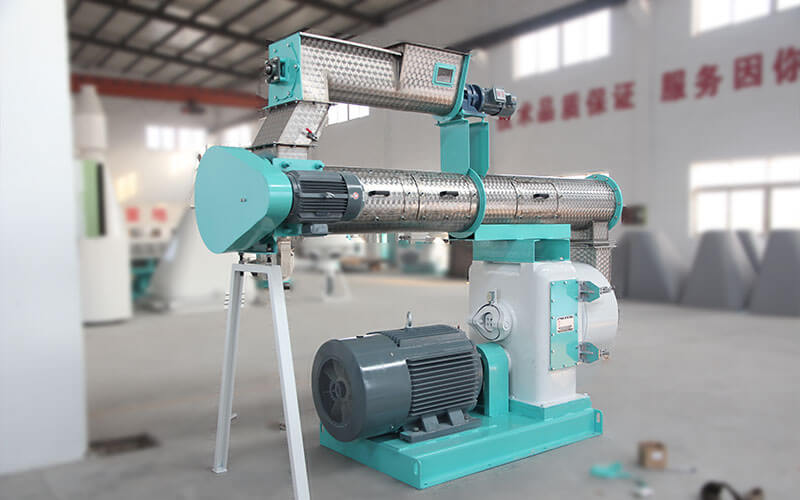 Condition: NEW
Ring Die Feed Pellet Machine IntroductionRing die animal feed pellet mill is different from flat die animal feed pellet mill. It is with higher capacity, usually, it is used in the whole feed production line for large and medium-sized farms. Ring die feed pellet mills adopt mature technology to make high-quality animal feed pellets for chicken, cattle, horse, duck, etc with large-scale production.
In general, the animal feed pellet making machine will be used for animal feed lines and the machine is the most key part. It is an ideal equipment for animal and poultry breeding in grain feed factory, livestock farm, poultry farm, individual farmers, feed processing industry, etc. The ring die feed pellet mill with conditioner, so the machine needs the steam to soften the material first to kill the bacteria and improve the quality and capacity of final feed pellets. It has better raw material versatility, which can be suitable for pelletizing many kinds of raw material, such as corn, broom corn, wheat, beans, oilseed meal, and other materials.
Ring Die Feed Pellet Machine ApplicationApplication of ring die animal feed pellet mill: for making cattle, geese, pig, duck, chicken, sheep, rabbit, and other animals, livestock and poultry feed. 2-4mm diameter chick feed and pig feed. 2-5mm rabbit feed, 4-8mm cattle, or sheep feed pellets. Pellet length can be adjustedMaterial: corn straw, rice husk, soybean, soy meal, wheat, beans, corn, corncob, etc Ring Die Feed Pellet Mills Features1. The host adopts high precision gear transmission, which has high transmission efficiency and compact structure2. The ring die is positioned by a quick-release hoop, which is convenient and quick to disassemble3.Can be equipped with extended or multi-layer conditioner according to user requirements4. Feeder is made of stainless steel with an anti-lump structure.5. The main drive adopts high accurate belt.6. The machine has iron removal device, overload protection device and trip switches, ensure safe operation7. The machine with high working efficiency and advanced design, it is easy to operate.
Animal Feed Pellet Machine Main Structure1.FeederThe feeder is full stainless steel, the gap of the spiral blade should be controlled at about 5mm, to ensure the feeding no residue 2.Security SeparatorWith safety guard iron remover between the variable frequency feeder and conditioner, which can effectively remove the iron to protect the conditioner, ring die, and roller.3.Conditioner the feed raw material are ripened and sterilized due to the vapor stream. which can improve the digestibility of the feed, promote the absorption, increase the feed meat ratio, and reduce the production cost. The conditioner is made of stainless steel.4.Granulation ChamberStainless steel door cover and feed hopper, manganese steel blade, high-end pellet machine cutter seat, granulator main shaft, hoop hollow shaft are all made of material 40Cr forging parts.All adopt numerical control lathe machining, high precision.All the precision adjusting nuts are made of stainless steel screws to ensure that the pelleting chamber is not rusted5.Siemens MotorsOur pellet machines main motors adopt Siemens motors6.SKF BearingHost bearings adopt SKF bearings, reliable quality, long service life!