Rotary Grading Sifter
Herm Machinery,
4:13 AM 7 September 2020 | Henan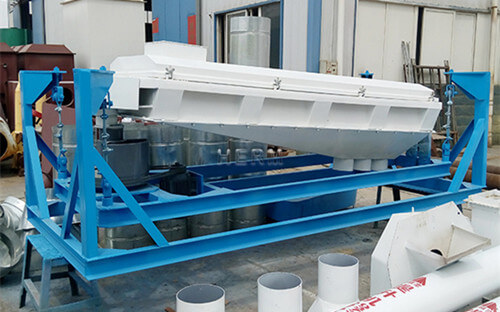 Condition: NEW
Rotary Grading Sifter IntroductionThis rotary grading sifter is widely used for screening and classifying of mash or pellet feed, and also also raw materials cleaning for feed factory and large and medium feed secondary grinding by large and medium feed production lines. It is suitable for feed pellets factory, animal feed industry, wood pellets, chemical industry, etc. The machine adopt the non gear transmission gearbox, no oil lubrication, to avoid leakage.
Rotary Grading Sifter Features1. Reinforced frame, to guarantee the equipment running more balanced.2. V-Belt driving,lengthen the wearing lifetime.3. Stable and reliable reliable operation, convenient operation and maintenance4. Quick screen pressing structure, quick and simple screen replacement5. Special stable mode is adopted, with small vibration and low noise6. Comprehensive motion, elliptical motion and reciprocating linear motion features large output, high screening efficiency and low dynamic consumption
Rotary Grading Sifter Working Principle1. This rotary classification sieve is made up of machine frame, hang rope, activity base sieve box, screen frame, supporting plate and transmission parts.2. Sieve box is 4°~6°with dip angle, the V-belt through motor drives eccentric shaft to rotate motion.3. The raw materials are put into machine from inlet and distribute sieves uniformly and slide down along inclined screen to form automatic classification.4. The small granule are glued to screen, and the granules, bigger than sieve size, move to outlet and discharge to machine, so far, the materials screening finished.5. The three layers has four outlets and two layers with three outlets.6. In order to improve screening efficiency, There put high elasticity rubber ball on sieve and haul. When sieve box working, rubber ball claps sieve irregularly to prevent blocking sieve hole and improve screening efficiency.
Country: China
State: Henan