Small Flat Die Feed Pelleting Machine
Herm Machinery,
4:03 AM 7 September 2020 | Henan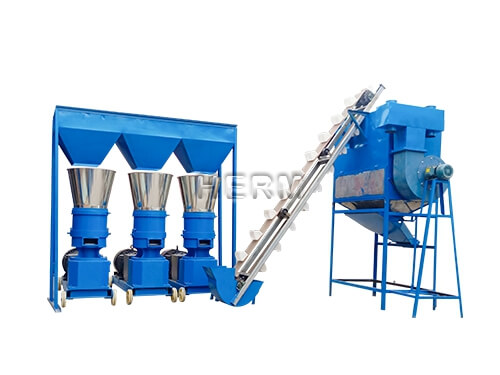 Condition: NEW
Small Flat Die Feed Pelleting Machine IntroductionThis animal feed pellet making machine mainly used to produce the chicken, pig, rabbit, sinking fish poultry feed, and so on. The animal feed pellet machine is powered by electric or diesel engine, the diesel type can meet the place short of electricity. It is usually use in the small animal feed pellet produciton line. They make the pellets by shaft driving and high-technology, working without water, and belongs to dry -input and dry-output. The pellet making machine can make different sizes of feed pellets by changing the mold range from 2.5mm to 8mm. The client can choose it according to need. it is widely used all kinds of farms and home use, family. Mainly export to many countries, such as Russia, Algeria, Finland, Thailand, Malaysia, Italy, Japan, Zambia, Bangladesh, and so on.
Small Flat Die Animal Feed Pellet Mill ApplicationThis small flat die animal feed pellet machine is mainly used to make feed pellets for dog, cat, cow, chicken, sheep, rabbit, pigeon, layer chicken, broiler, duck, goose, fish, pig and so on in feed factory.
Small Feed Pellet Making Machine Advantages1.Simple structure, easy to clean and maintain.2. Spare parts are easy to change, less cost for rollers and dies.3. Be able to change new die and rollers faster to save time to produce pellets.4. Visibility to viewing the material during pelleting, it is the best way to fix problems.6. Small and lightweight, which can be used in the home, small farm, and light industrial.
Small Feed Pellet Making Machine Working Principle1. It consists of the feeder, the conditioner, the flat die, and the motor, the electric control cabinet.2. Firstly, the material goes through the feeder from which the material can flow into the pellet machine at the best speed to ensure the full load working of the pellet machine3. And then the hot dry steam mix with the material and soften, steam the material for easier pelleting. This design can also extend its life.4. Finally the softened and steamed material go through the flat die to be made into the pellet, we can adjust the flat die to get different size of pellets.