Wet Type Floating Fish Feed Plant
Herm Machinery,
3:54 AM 7 September 2020 | Henan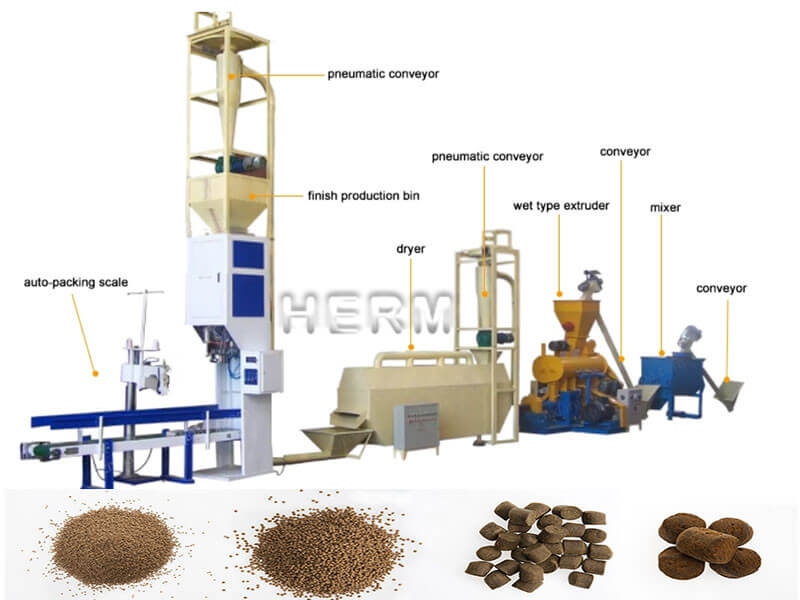 Condition: NEW
Wet Type Floating Fish Feed Plant IntroductionOur wet type floating fish feed pellet production line is the complete procedure of fish feed producing plant, which include fish feed making machine, fish feed crusher, fish feed mixer, fish feed dryer, and other equipment. It is used to product variety materials into high-grade floating aquatic feed pellets for fish, catfish, shrimps, crab etc.
This wet type floating fish feed plant is newly developed to meet the demand for intensive production of fish feed pellets which can process all kinds of grains powder into the high quality aquatic floating pellet. With many specifications, so this floating fish pellet plant can produce floating fish feed, pet feed, livestock feed, etc. The complete floating fish feed production line including feed grinder, feed mixer, feed dryer, feed cooler, oil spray machine, packing machine which are connected by conveyors or elevators. The feed pellet can float on the water for 12 hours at least. By adjusting the feed formulation, also can make a sinking feed pellet. The pellet size from 1mm to 12mm by changing the molds. The products can have different shapes, unique flavor, rich nutrients, and fine texture to meet the different eating habits of animals. Super automation control and high production efficiency, this fish feed production line is the best choice for medium and big sized feed mills and breeding farms. This wet type floating fish feed production line can produce various kinds of pellets for different varieties of fishes including Catfish pellets, CatCarp pellets, Halibut pellets, Trout pellets, Hemp pellets, CSL pellets, etc.
Raw Material required :Type: Flour, cornmeal, soybean meal, maize meal, meat meal, bone meal, fish meal, etc.Fitness: about 60-80mesh which were crushed and mixed Moisture content: about 20%-25%Starch content: ≥30% Wet Type Floating Fish Feed Plant Advantages1. Wide applicable scope: this production line can produce floating fish feed, sinking fish feed, pet feed, livestock feed, etc.2. Best-selling worldwide: our fish feed pellet plants are hot selling in Nigeria, Malaysia, Australia, Sri Lanka, South Korea, etc3. Smooth operation4. Cost-effective5. Long service life
Wet Type Floating Fish Feed Plant Working ProcessCrushing → Mixing → Extruding → Pellet Drying → Oil Spraying → Pellet Cooling → Pellet Packaging
Grinding-Feed Hammer Mill To produce high quality fish feed pellets, fine grinding of raw materials is necessary. The finer the material is, the more surface area will be exposed, thus achieving the great gelatinization in conditioning. The feed hammer mill is adopted in this fish feed pellet line, which can benefit users by ideal crushing effect.
Mixing-Fish Feed MixerEfficient mixing is the the key step in fish feed pellet plant due to its direct influence on the feed pellet quality. Proper mixing will increase diet uniformity and improve the feedstuff quality. Our mixing machine stands out with high mixing uniformity, CV≤5%, and no segregation.
Extruding—Floating Fish Feed ExtruderExtruding is the key process as it ensures that the feed formulation is in the correct quantities. Floating fish feed extruder is widely used for producing variety materials into high-grade aquatic feed pellets for fish, catfish, shrimps, crab etc. The final pellets have unique shape and good taste, high nutrition and smooth textures. For feeds of fish and shrimp, the floating time in water can be adjusted by the extrusion degree adjustment. Feed pellets dia. is 0.9-15mm. We have wet type fish feed extruder and dry type fish feed extruder for your choice.Drying—Fish Feed Pellet DryerFeatured by high drying uniformity and low breaking ration, mesh belt dryer is preferred to reduce the high moisture content of feed pellets coming out from the extruder.
Oil Spraying—Oil Coating MachineOur oil coating machine is used for spraying the oil, grease, vitamin, ect. to the feed pellets surface to increase the palatability of fish feed pellets. In the drum-type spraying machine, the additives can be contacted with pellet surface sufficiently and spray evenly. After spraying, the fish feed pellets are balance and rich in nutrition.Cooling—Feed Pellet CoolerThe counter flow pellet cooler is used for cooling the feed pellets just coming out from the oil coating machine. It takes advantage of counter current cooling principle to cool the pellets with high temperature and high humidity. It can avoid the shock cooling phenomenon when the cold air contacts with the hot material, thus preventing the pellet appearance crack.
Packaging—Feed Pellet Packing MachineAs the last step in floating fish feed pellet line, packaging is optional according to your needs. The automatic feed pellet packing machine is always combined with the transport mechanism and the sewing machine to constitute the automatic feed pellet weighing and packing system used in animal feed factories. We can design and supply different capacities of the complete line according to customers' requirements. Usually have 200kg/h, 350kg/h, 500kg/h, 800-1000kg/h, 2000kg/h.